A retrospective on Seventh Heaven
It's strange to be commemorating the release of one of my favourite albums on its thirteenth anniversary when thirteen isn't even a very round number, but it seems to be a pretty good time to sit back and look at where its contributors are today. Its tenth anniversary saw the departure of the band's main songwriter/producer, so I've been waiting a while before stopping to think about its influence (outside of my own life as a listener and fan).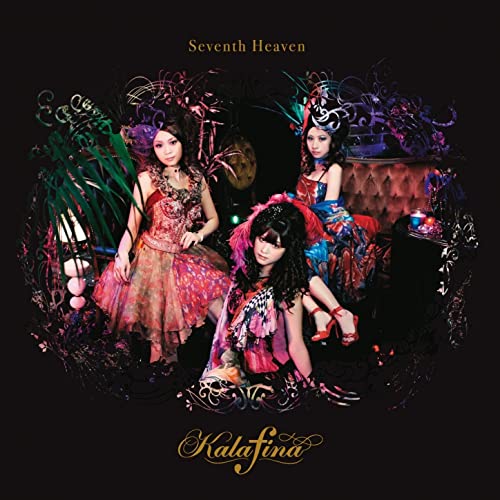 The movie adaptation of Type Moon's Kara no Kyoukai (aka The Garden of Sinners) was influential in terms of what Studio Ufotable went on to do afterwards, but it was also a turning-point for the musicians involved. Although Yuki Kajiura's career was on a gradual upward trajectory already, it provided the opportunity to create some of the most highly-regarded music of her career.
While she scores soundtracks in a fashion that's common for film and TV composers, her CV also includes radio-friendly theme songs. The "FictionJunction" project is less of a band in the conventional sense and more of an umbrella term for Kajiura herself and a variety of independent musicians and singers who record the songs and perform them live with her on stage.
Kalafina was a departure from this. For whatever reason, it was decided that a new vocal unit with its own name and brand identity was needed for the KnK soundtrack project, and Kajiura was granted creative control while not taking a visible role at live shows or promotional events. When the movies were released in Japanese cinemas the theme songs were released as singles, along with the Re/Oblivious EP and a full album that included the final movie's theme song, Seventh Heaven, as its title track.
It was essentially a FictionJunction album in all but name…just with the main producer staying out of the spotlight. Although two new vocalists – Hikaru Masai and Maya Toyoshima – were recruited, pretty much everyone else had already worked with Kajiura at some point, vocalists Wakana Ootaki and Keiko Kubota included. By all accounts, it wasn't even intended to be a long-term venture: the initial expectation was that it would disband when the promotion for the movie series was completed. Indeed, Maya left the group before the album was released, being credited in the CD booklet but not featured on the cover artwork (this was inevitably subject to fan speculation, but the reality was likely less dramatic: she considered completing her university studies to be the wiser long-term career choice over a newly-formed band).
While FictionJunction is a loose collective revolving around its main songwriter, Kalafina was singer-focused and enjoyed a regular schedule of releases and live tours. There were busier flurries of activity during promotional campaigns for movies/TV shows that they had written songs for, but the overall routine and musical output turned out to be more prolific.
Back when Seventh Heaven was recorded though, FictionJunction was still the prime concern for Kajiura and as far as their collaboration with her was concerned, this was true for the supporting musicians as well. Following the release of that album, this line-up changed little. It's as though the formation of a Kalafina as a stand-alone band formed the environment that allowed FictionJunction's "front band" to bond.
Drummer Masuke Nozaki would later play less frequently with them after their second album, with Sato Kyoichi being the regular behind the kit; Susumu Nishikawa continued to contribute guitar parts for two more Kalafina albums without (to my knowledge at least) performing at live shows. Another FJ veteran, Kouichi Korenaga, would be Kajiura's regular "live" electric guitarist and was in the studio for some of the Seventh Heaven recording sessions; flautist Rie Akagi, bassist Tomoharu "Jr" Takahashi and violinist Hitoshi Konno have also worked on both projects.
What is most striking about Seventh Heaven – and is arguably the most important aspect for many listeners – is the distinctive three-way vocal harmony that went on to become Kalafina's trademark sound. Kajiura's songwriting was already distinctive, but the front-and-centre focus of this band was the unique way that the three principal vocalists worked together. Even when they had the same violinist, guitarist, bassist and drummer behind them, it was always Wakana, Keiko and Hikaru on the album covers, listed in the inlay booklets, and forming not just the image but the sound that set them apart. They didn't follow the conventions of classical, but they pushed themselves further than where most chart pop groups would go; it was a somewhat unique setup that was difficult to categorise.
ARIA is one example of how the sound was cemented so early on: an unusual 6/8 time signature that doesn't so much waltz as charge fearlessly ahead; warbling synth pads and atmospherics with a string quartet; a dizzying crescendo of gothic choral chanting with overdubs of made-up language; a stadium-thrash Korenaga fretboard-tapping guitar solo; all fronted by one of Hikaru's first ever vocal performances with the band. At the time she was just twenty years old but the bell-like metallic clarity of her voice is already evident, as is Wakana's heart-rending violin-like tension and Keiko's uniquely resonant cello-like contralto filling in the lower registers.
The debut single Oblivious was recorded before Hikaru joined the group, so the main vocals are dueted between Wakana and Keiko. Even here, their respective roles are set with that borderline-operatic style flowing over a dance-y synthpop beat. Sprinter is a more guitar-driven rock number, but one that formed the template for many of their later tie-in singles. Another highlight is the haunting Serenato, which utilises a variety of unconventional instruments and vocal arrangements to create an immersive soundscape that doesn't seem to be tied to any particular time or place.
Back in her early days with See-Saw, Kajiura wrote songs for the band's solo vocalist Chiaki Ishikawa; FictionJunction involves too many names to list here, but often has several vocalists on stage at the same time. Following Seventh Heaven, as Kalafina performed and recorded with the same three main singers working closely together, there was a similar change to the performances at FictionJunction shows. Keiko and Wakana became guest vocalists (Hikaru joined the backing chorus occasionally) and when I listen to the FJ output from 2008 onwards, the lyrics have some of the intricate and multi-layered quality that defines Kalafina's songs.
It's as though Kalafina became Kajiura's musical laboratory that allowed ideas to evolve and be applied to her other work. Or, if you want to be more poetic about it, a fertile patch of ground that provided the ideal conditions for a prolific songwriter, dependable hired sessioners, and three uniquely talented voices to nurture one another and grow. People with more in-depth knowledge of musical theory will be able to spot this more easily than I can, but their vocal abilities – both on their own and when harmonising – also became more complex and polished over time, and the songs that they were tasked with singing became more challenging with subsequent albums.
Even though their later releases built on this and are in some ways "better" in terms of technical skill, Seventh Heaven captures the point in time when all this was established. It is particularly telling that, right up to their last major concert, a regular feature on their live set lists was Ongaku: never used as a TV theme song or released as a single, but as "just an album track" from their first record, it was a staple of virtually all of their live shows.
Ultimately, five studio albums during ten years is not a bad result for a pop group that was founded for one specific project. The specific details of the break-up are muddied by hearsay, rumour and tabloid gossip, so I won't dwell on them here. The respective journeys that the members have taken have resulted in a richer, more varied yet more consistent FictionJunction, and produced three solo careers that are distinct from their earlier roles. As Kalafina, they sung songs that were already written; tailored to their respective ranges and timbres, but nonetheless conceived and arranged without their direct input. In contrast, all three of their respective solo projects have involved them co-writing some of their own songs.
How they might now approach a hypothetical Kalafina reunion after this, assuming they are free from their current contractual obligations and pandemic restrictions, is I think a discussion for another time. It is quite something though to follow these people across thirteen years of regular rehearsing, performing, recording and touring; seeing inexperienced unknowns become respected solo artists after helping to shape a body of work that occupies its own unique niche in the music industry. Given the likelihood of artists finding success and longevity in that industry in this uncertain age, that really is something to celebrate.